Enterprise Resource Planning (ERP)
Enterprise resource planning (ERP) is business process management software that allows an organization to use a system of integrated applications to manage the business and automate back office functions like human resources, sales , marketing , finance, accounts ,inventory etc. Our Software packages are designed to be of high quality, cost effective, scalable and easily maintainable.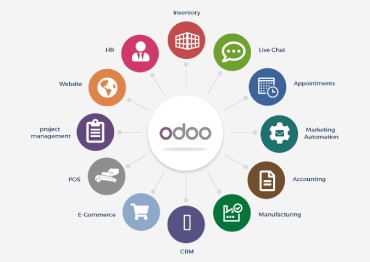 The Business Value Of ERP
Gives a Realtime view of data that can enable companies to address concerns proactively and drive improvements
Improves financial compliance with regulatory standards and reduces risk
Automates many core business operations
Enhances customer service
Improves competitiveness
Increases business agility
Improves flexibility in responding to the market demands
Improves Flexibility in Responding to The Market Demands
Sales Management
Staff Management
Stock and Inventory Management
Supply-chain management
Production planning
Project Management
Customer Relationship Management (CRM)
Financial Accounting and Bookkeeping
Data analysis and workflow management
Business Intelligence and Reporting (MIS)
Document and Workflow Management
Our ERP Packages Have the Following Important Performance Features:
Elegant user interface, consistent with the customer's corporate site design
Sophisticated security for data access and storage
Performance optimization for the expected system load
Major Industries We Serve
Retail
Well-organized Retail outlets offering readily available product and services for happy customers, is the beauty of Modern Retailing! However, challenges to efficient retailing are numerous like centralized control to independent business applications, High-speed information processing /access across the network, optimized warehousing and logistics, cost-effective Human Resource and Customer Relationship Management.
Our Retail Clients include
FMCG
Apparel, Footwear and Fashion
Electronics and Telecom
Wellness, Salon and Spa
Food and Beverages
Pharmaceuticals
Distribution
Efficient distribution becomes much vital to overall success of the business. Gaining customer loyalty by satisfying their needs optimally is what every business strives for. An efficient distribution network to offer powerful replenishments across all access points to deliver uninterrupted services to customers is highly coveted.
The web makes customer independent and they do not rely much over distributors, and can ship the product overnight from web. Also, multi-channel retail increases worry for distributors where lack of real time visibility to data makes distribution management much complex. In addition, today's educated customer is too demanding, exercising great pressures over operating margins.
Manufacturing
Manufacturing a cost-effective product, meeting commitments with customers is quite challenging. Manufacturing industry deals with number of industry partners and business entities for their smooth operations. In addition, fluctuating economic factors, market governance and compliance mandates adds to their complexity.
Today there is a great need for efficient systems, which offers dynamic controls and high accessible informational access to support strategic decision making, to keep up with the robust business environments.
Our ERP is a highly scalable and flexible software solution to strengthen back office operations for better control and higher profitability. Embracing latest technology built on single unified model, with powerful integration and comprehensive tools it helps to manage entire manufacturing business from end to end. It is a well-built ERP solution supporting entire range of manufacturing processes from procurement of raw materials, production tracking, inventory management, supply chain planning, expanded outsourcing, sales and marketing, asset maintenance, human capital and payroll management and business analytics. These business processes can be selectively configured to cater to unique business needs.
Companies which use our ERP Solutions include
Our Retail Clients include
Garments
Industrial Machinery and Products
Oil and Natural Gas
Food and Beverage
FMCG
Auto Ancillary
Electricals and Electronics