"We Understand That Mobility Is Not Just About Building an App, But A Whole New Way for People, Systems and Businesses to Connect, Communicate and Collaborate."
We Know How to Create Business Value with Mobile Technology: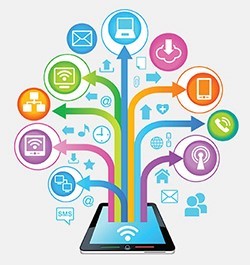 At KGPTC our designers and developers, will take your project and give life to it. Whether it is a competent business app or the next killer app, we devise a solution for your idea. Our expert team will pour their core app skills to give a perfect shape to your concept application. Our team combines of award-winning talent in marketing, design, usability and engineering to produce exceptional mobile applications for a range of devices. We have helped our customers make the most of mobile - from initial strategy through to design, development, testing and marketing. Thanks to the experience of our highly specialized teams acquired in the mobility development field, we are able to build, refactor and convert apps that fit our customer's business needs and the user expectations. Let our knowledge guide you as we collaborate on a project to build an experience that your clients will value and admire.
We, KPGTC make mobile applications simple and affordable for small to large businesses. We will craft, create and develop your application to operate on iPhone/iPad, Windows, Android & HTML5 applications.
Here Are the Reasons for That:
Delivered mobile solutions for various businesses.
Extensive experience over different market segments.
Flexible, trusted and customer centered.
Hi-tech resources and facilities.
Proven quality and delivery processes.
Trust Us:
We've been doing mobile a few years, and our in-depth know-how on B2B & B2C mobility development is now on a big break. Do you have just an idea, but need some advice on how to start? We will help you from idea to launching your app. Do you have detailed plans about the entire app's functions, but need a business app development partner to help you with the implementation?
We will help you, not only with the business mobile application development but also with creating a superb user experience. In short: we have everyone on board to make your app a success.
Services Offered Include:
Mobile Strategy Consulting
Mobile Architecture Design
UI Design and Integration
Mobile Application Development
Web to Mobile Migration
Mobile Testing: Emulator & On-device testing
KPGTC has comprehensive expertise and extensive experience in building rich, dynamic native and web-based mobile apps that support smartphones, tablets and other handheld equipment. We have an expert team of mobile application developers with experience in programming languages such as Objective C, Java, and C++ to build native applications that run on operating systems such as iOS, Android, BlackBerry OS, Symbian and Windows Mobile.
Our Domain Expertise:
Augmented Reality
Location-based Solutions
Mobile Entertainment
Mobile Commerce
Mobile Social Networking
Mobile Money Solutions
Media Streaming
Field Force Management
Consumer Mobility
Save Mobile Application Development Cost Up To 60% By Hiring Our Developers
Our team of mobile app development is fully dedicated and highly motivated to accept different challenges and develop outstanding and highly customized mobile applications to suit client's needs. At KPGTC, we follow budget centric and effective approach that matches different industry standards of performance and its features. We offer facility to hire mobile app developer as per the requirements of the client.
Ready to Take the Next Step?
Feel free to send over a request by filling out our quote form. We'll get back to you promptly with our analysis and a structured costing of your project.